Thursday, June 13th, 2013 at 3:03 pm
Wow, it has been so long since I added anything here.  In my defense, I moved in May and, um, procrastinated the rest of the time.  I'm finally settled for the summer (I go to college in the fall so I'll move at least once this year and I'll travel some more this summer).  Last weekend I went to the Bead and Button Show in Milwaukee, Wisconsin and decided it was time to start a project I had put off, a faerie based off an art tile I had picked up by Anne Stokes.
I plan to reproduce much of this image in polymer clay with a wire armature.   Below are some of the colors I will use to make the sculpture.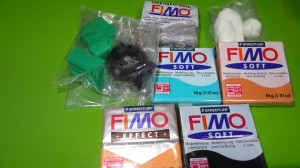 Since that picture I have picked up a few skin tone squares to make her very pale skin and I'm still deciding how I will do her eyes, which are half closed in the tile.  In case you're wondering why I am writing "faerie" instead of "fairy", it is intentional.  When I think of "fairy" I think of the cutsy, small Tinkerbell version of fairies that children are taught of but "faeries" are the newer, more adult version of nearly human creatures, often with some sort of wing, that are not so bright, pure, and innocent.  Faeries have lived a long time and seen Mother Nature angry, sad, and happy.  They live beside dragons, elves, dwarfs, trolls, witches, werewolves, and ancient gods like Hera and demigods like Perseus.  These creatures protect the planet and forests, helping grow crops and sometimes helping Mother Nature in her devastation.   Faeries are not light and innocent, but many shades of gray and darker colors, in this case dark blues and purples.  I want to be able to sculpt these creatures, and all that inhabit the world of myth, in a way to show the beauty of that world.  However, I'm not that good at drawing or seeing the creatures in my head yet so I will use this tile as my guide to practice on and see what all will go into one figure and the scene around it.  If needed I have two other art tiles of Anne Stokes to recreate.
First things first though.  Now I have all the clay I think I'll need, my oven nearby for when I finish, and a few decorations for the final scene.  Time to start the creating process.  Looking at the faerie, I assume she is sitting on her feet under her dress as she reaches for the skull.  That tells me that her legs and feet will be under skirt and aren't as important as the rest of the skin will be.  With that in mind, I make the wire frame for the armature: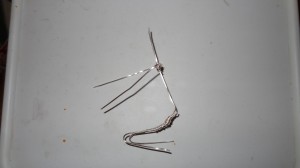 I realize it doesn't look like a lot at this point.  I've been told the legs should be longer and the wire for the neck is probably too long but the head wire can be cut and extra clay can be added to make the legs longer.  At least it looks like a human.  My next step is to add wings and aluminum foil to complete the armature so I can put clay on it.  (Don't worry, I'll explain the armature next time when I complete mine.)
So for now: Have a nice day and enjoy crafting!